When Others Speak Evil of You

By

Ad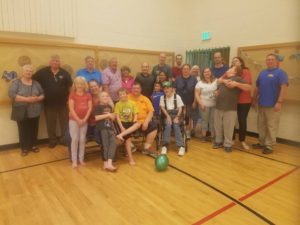 On 7/21/2017, I had come home early from work because Barbara told me that our daughter Melissa and the triplets were coming over and I wanted to help make dinner for them. I baked some biscuits and then kept part of the dough to make wiener wraps for them. I got the biscuits done and had rolled up the sausage dogs into the dough and put them in the fridge until Barbara was supposed to show up with the kids.
While relaxing between cooking and the arrival, I got a call from a friend, who was also supposed to come for dinner. He said that he had a blowout on the way to our house and that he was close to our church building, so he was going to pull in there. He said he needed the bathroom and I figured I would have to let him into the church building with my key.
On the way, I called Barbara to see if she had picked Melissa and the kids up. She said that she was at the church building too, that Melissa told her to meet them there. When I got there, Melissa came out of the building and my friend ran in.
I looked at his car and it was obvious there had not been a blowout. It looked fine. That's when I became suspicious. Melissa told Barbara and I that we needed to get in the church right away. That's when I knew that there was some kind of surprise in the works, but Barbara somehow believed that one of the grandkids was hurt and wouldn't listen to anything else until the cultural hall door opened up and "Surprise!"
Our family had arranged a suprise party in celebration of 40 years of marriage. Other than family, there was my friend, some other friends I hadn't seen in awhile, my best friend who is also my business partner, and a couple of clients. It was a wonderful surprise and a fun evening.
During the evening, someone quipped regarding our forty years together, "And they said it wouldn't last!"
It was actually a very accurate saying. Many naysayers have said that our marriage wouldn't last, including one former priesthood leader who predicted when we had only been married about fifteen years, that we would be divorced within five years. It took him a little longer than five years, but he eventually divorced and we're still married.
During the party, I was asked to relate the story of my proposal to Barbara, and since I've written about that before, I won't repeat it here. Having passed the forty-year mark, the story of the proposal, our engagement, and the life we've lived since has been very much on my mind. In particular, there was something that happened in the spring of the year we were engaged that we have both agreed never to relate to anyone else. Like Mary, "[we] have kept all these things, and pondered them in [our hearts] (Luke 2:19)."
I will not break that pact here, but will happily say that for us, there has never been a doubt that we are supposed to be married and for time and all eternity. A few rare times in my life, I've received a manifestation from God about important things for me. Most of those times, I've thought of those events as evidence that God approved of my actions, but as I've grown older and hopefully more in tune with how the Lord works in my life, I understand that what I believed to be evidence of God's mere approval was actually a promise from God that he would bless the course I was taking.
What we experienced when engaged was more than God telling us that he approved of us getting married, more than a divine thumb's up for our plans. It was a promise from God that what weighed most heavily on me at the time was something I need not worry about. God was telling me that us that he promised that us we would last, that whatever else may come, we would be together in the this life and the next for time and all eternity.
This promise did not come easily. It was a wrestle, as when Jacob wrestled with God at Peniel until he was renamed Israel and blessed that his family would continue. I know a lot of people who think you shouldn't have to strive for the things you value. God should just give it to you. A loving god would.
I've never believed that. We never really value the things that fall into our laps without any effort. It's the things you work for, struggle for, and are willing to suffer for that mean the most.
Naysayers have judged us on several things, not the least of which my disclosure that I've always experienced same-sex attraction. They have "said it would never last" based on their own sociopolitical ideals about what a marriage like mine means. They can't conceive of what it means to us to share this struggle as partners and the blessings that come from our willingness to bear it together.
Others have said that the financial pressures would tear our marriage apart, since we've always struggled to make ends meet. Nothing about money has ever come easy to us and where others might have had small rifts become deep chasms because of financial problems, that would never be enough to break us. We've been promised.
Sometimes it's because you won't hear a lot of pet names for each other dripping from our lips. One friend, after hearing me have a phone conversation with Barbara couldn't believe how forthright and honest I was during a disagreement. He said he would never have dared to talk to his wife like that.
I told him that there were no children in this relationship. I am not her father and she is not my mother. We don't have to resort to gooey talk to say what's on our minds no do we have to hide our thoughts from the other.
You know, I really hate the whole "if Mama ain't happy ain't nobody happy" mentality. What utter nonsense! If you try to make someone happy by shoving down your own feelings, you will never succeed. We'll never call each other "dear" and grind the word with our teeth while we say it.
We've been through a lot, and we've come through the refiner's fire like gold. Not only have we struggled with money, but also with injury, illness, the heartbreaks of parenting, the fears of losing a child, and the pestilence of those who think they can predict our future. Forty years speaks for itself.
In our faith, we often hear about evil speaking, which is not very well defined unless you study what it means. I've made that study of the scriptures. Going back to the law of Moses, to speak evil is not about deriding someone. It isn't about not agreeing. It isn't even about criticizing. Speaking evil means to utter curses, to predict that an evil shall befall someone whether as some kind of incantation or even just pretending like you know someone's fate because of your own wisdom and reasoning.
To say that my marriage wouldn't last is evil speaking, plain and simple. The truth is, only God knows what will become of us, and if we are willing to wrestle it from Him, He may choose to reveal it to us. Evil speakers don't have the right to know what God has planned for us, and He certainly won't reveal it to anyone but us.
Barbara and I have a promise from God about our marriage. Through difficulties you couldn't even imagine, we've trusted in the promise the Lord made to us over forty years ago and that has seen us through everything else. I've learned in my life that no matter how many times I promise God something, that I am weak and not always able to keep my promises, though I will always try.
When God promises you something, you can count on it, and no matter who may speak evil of you, God will keep his promises. That is the hope that has kept my marriage together and will always tell you that this weak man that I am couldn't make any marriage eternal, but I know that my Heavenly Father will keep his promises to me and to my dear Barbara.
I take comfort in these words of Peter:
"But sanctify the Lord God in your hearts: and be ready always to give an answer to every man that asketh you a reason of the hope that is in you with meekness and fear:
"Having a good conscience; that, whereas they speak evil of you, as of evildoers, they may be ashamed that falsely accuse your good conversation in Christ (1 Peter 3:16)."
I don't know how long life will be for either of us. I gave a blessing to a woman in Intensive Care at the hospital this morning whose life hangs in the balance of a 50/50 doctor's estimate of her chances to survive. Death may temporarily part us at any time, but I know that death is not the end. We've already received a promise from God that not only will death never end our marriage, but our marriage will never end.