Reflections on a Walk Around the Grounds of the Temple

By

Ad
I had an interesting experience the other day as I was taking a walk around the grounds of the Temple in Sacramento. As I paused for a moment in the shade of an oak tree, I looked up.
As I was looking up, I thought to myself "I wonder if anyones every photographed the temple from this angle?" There are always the beautiful prints in the bookstores looking straight on at the front of the temple without a lot of other stuff in the background or foreground. So I took a picture with my phone. (Still bogles my mind that cell phones have cameras now and actually take surprisingly good pictures. It doesn't seem like it was that long ago that one had to find a pay phone, deposit a dime and dial.) I walked around the grounds again and decided to see what other angles I could see which might make nice pictures. I also discovered that the hibiscus flowers were in bloom. Hibiscus are beautiful flowers that have huge deep red blooms about the size of a dinner plate.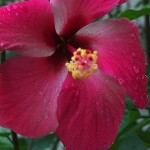 I've found as with taking pictures, sometimes it does help to look at various life circumstances from different angles. I've had quite a few ups and downs with my moods lately. The struggles with same sex attraction not withstanding there have been other things on my mind and heart as well. And I've been really frustrated by things over which at the present time I have little or no control.  It's no secret that lately I've been not terribly happy about living in Sacramento. Yes the traffic here is horrendous, frequently the air quality sucks, and it's been really hard to get away from the city. But in looking at things from that different angle I've come to realize a few things. I think to some extent it's about learning patience. I've also come to realize in part that maybe what I'm really wanting to escape from is not so much Sacramento itself as it it about wanting an escape from loneliness. Being homesick in a way for close friends who are far away and places that have special memories and meaning for me.
As much as I would like to tell myself it's the stress of living in a big city that's not entirely true. Salt Lake City, is also a big city with lots of traffic and other big city headaches. Yet that is one of the places I've been really missing a lot lately and wanting to return. I haven't been able to get back there since I moved to Sacramento almost four years ago. Certainly not everything in Salt Lake City was perfect and it had it's share of disappointments, frustration, and heartache. Ashland Oregon and Yreka California are also a couple of places I've been longing to go back to. They actually are small towns where I grew up. I don't think I totally appreciated life there as much when I was young. But both places as well as Salt Lake City have some very special friends and memories that as I've grown older mean a lot more.
It's true that I really do like small towns. Especially if they are on the coast or in the mountains. Going to small towns, to the coast, or the mountains does lift and elevate my mood and I find them renewing and refreshing. Definitely it's easier to hear ones heart with a background of ocean waves and fog horns. Or mountain breezes and the scent of pine trees. The quiet and the stillness are a welcome relief.
As much as their is loneliness and longing, and a legitimate need to escape the big city there is a loving Heavenly Father close by. Prayer and resting in the Lord who is our eternal home is something one can always do weather in the mountains or in the ugliest traffic mess of the Capital City freeway. That thought was brought home to me last Sunday. The offertory in the church where I work last Sunday was a piece called O Rest in the Lord from an oratorio by Mendelssohn called Elijah. In this part of the story, Elijah is really discouraged and with good reason. The Israelites have rejected the teachings of God and there are people who want to kill him. The angel who has been sent by God to Elijah tells him that he is to go on a journey to Mount Horeb. After Elijah sings of his discouragement with the state of things we hear an aria sung by the angel that quotes Psalm 37. "O Rest in the Lord, wait patiently for Him, and He shall give thee thy hearts desires."
I've had this running through my head since Sunday and I've also reflected quite a bit on the idea of looking at things from a different angle. With my keyboard and computer I recorded this aria and put it together with a some of the pictures I took at the temple. With the music I decided to do something a little different and used a classical guitar sound for the accompaniment and an English horn for the vocal line. So as I try and rest in the Lord and rely on him, I'm reminded that he is always there.  http://www.youtube.com/watch?v=MpMshUqdA0Q