…Of Flowers, Hymns and Faith

By

Ad
Wisdom and encouragement can sometimes come in unusual packages. Sometimes they can be great choruses or works of music created by some of the great composers. Sometimes, in words written by the saints and apostles of ages past as well as today. And sometimes from  an annoying ear worm or some very pretty flowers. Sundays are often very exhausting. I leave very early in the morning and get home usually between 9:30 and 10:00 at night. I know, many church leaders have a similar schedule and don't complain. I'm not complaining. I actually love what I do and the people that I work with. This particular Sunday I started having a panic attack late in the afternoon just after church and before choir practice. I didn't have a tranquilizer with me so I did some breathing exercises as well as praying.  I had a couple of hours before I needed to be anywhere and I felt impressed that I should drive out to the Temple.
Walking around the grounds of the Temple proved to be beneficial in more ways than one. I felt comforted and strengthened by the spirit and the peace that radiates from the walls of the Temple. After some deep breathing and slow walking I was starting to feel better. After I calmed down a bit I looked down and noticed there were some very small purple flowers in bloom and immediately a Primary song that I used to think was terribly silly and often made me giggle started running through my head.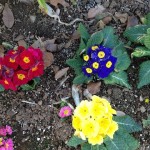 It's an old song called Little Purple Pansies.  Of all things, I couldn't imagine why this little ditty got stuck in my head and would not leave but I decided there must be a message that I was suppose to hear. Indeed there was. As soon as I got home, I looked in an older Primary songbook that was in use when I was young. Indeed, the song in question did have three verses but as near as I can remember we never sang the other two verses when I was a kid. The first verse still doesn't do much for me, but there is a powerful message in the other two verses:
When the skies are dreary and are dark and cold,
And the rain falls softly on the garden old,
Other flowers grow weary, we must try, try, try,
Just one spot to gladden, you and I.
In whatever corner we may chance to grow,
Whether cold or warm the wind me ever blow,
Dark the day or sunny, we must try, try, try,
Just one spot to gladden you and I.
Sometimes between the anxiety, financial troubles, and the various struggles that I find that go along with being a single middle-aged Mormon with same sex attraction. I do get weary and wonder how I can keep going and how to stay strong in what God has called me to do. There's a lot of pain and anxiety in everyday life. Yet as wearying as I may find it, it's nothing when compared with the other peoples difficulties or struggles. Particularly the pioneers who fled from place to place before settling in what is now Salt Lake City.
Without trying to trivialize the plight of the Mormon Pioneers, they have something in common with the little purple pansies in the primary song. Both were created by our loving Father in Heaven who loves them all. And  whether warm or cold, through storms and darkness they kept going and kept moving forward with faith. And that is what all of us need to keep doing. Storms and difficulties will arise, but we must keep going. The pioneers had a song written by one of their number that they sang frequently to encourage them in their journey. One verse that frequently comes to mind is one that says,
Why should we mourn or think our lot is hard?
'Tis not so; all is right.
Why should we think to earn a great reward,
If we now shun the fight?
Gird up your loins, fresh courage take;
Our God will never us forsake;
And soon we'll have this truth to tell –
All is well! All is well!
The great encouragement and message here for me is to keep moving forward in faith. God will never forsake us in our journey and occasionally he'll put some very pretty flowers in our path as a reminder of his love for us.