| | |
| --- | --- |
| By | Ad |
I have never really been enthusiastic about sports. If one believes stereotypes, it makes sense in light of the fact that I deal with same-sex attraction. If one believes in certain therapeutic models, becoming interested in sports is supposed to help with that, if "it" is something one thinks needs helping.Even though I don't believe in stereotypes, I think that stereotypes don't just come out of nowhere. They happen because a lot of people know a lot of other people where the stereotype seems to be accurate. The problem with stereotypes is not that they are inaccurate, but that they create unfortunate opportunities for people to jump to conclusions.
For example, if you know a lot of gay men who don't like sports, you might assume any number of falsehoods:
A man identifies himself as gay, so he probably doesn't like sports.
A man doesn't like sports, so he must be gay.
A man loves sports, so he isn't gay.
If you can get a gay man to like sports, he won't be gay anymore.
Does the last one mean that if you get a straight man to hate sports, he will become gay? Ridiculous!
Don't laugh. There are therapeutic models for treating men who deal with same-sex attraction by manning them up, which sometimes takes the form of encouraging and even mentoring them to dig sports. Now, I don't want to balk at this idea too much, because I have friends who have done it and swear by it. I am sure that there are other things at work than the simplistic analysis I have just given. I'll leave it at that. If it it's what a man wants to try, he has my support. It just isn't for me and I don't know that I need it. I like my life.
My history with sports has not been all bad. Another place where I fit the stereotypes was that I just couldn't play sports well to save my life. Many times, it felt like my life was in danger. I was the last chosen for everything where the two captains picked their teams. I can still hear the groans when it came down to me.
School P.E. teachers tried to make a man out of me, but they cared more about winning than helping some poor sissy man up. I knew that I was destined to be relegated to being a spectator.
I actually enjoyed going to watch football games in high school. I thought at first it was just a social thing, but even in a town where I was new and didn't know anyone, I liked going to the games. It was the same with basketball, though I liked football better.
Watching on TV was a different story. I just couldn't get into it. My stepfather like football. Whenever he was home on a Saturday or Sunday, he insisted on watching whatever game there was. I remember he was a fan of Darryll Lamonica.
I didn't really care to watch TV with Dad. The games weren't that hard to follow. I remembered the basics of football from school, but couldn't really enjoy it on the tube. We lived in Flagstaff, Arizona during that time. There was no local team. My method for picking a team to root for was as follows:
If Dad likes a team, I like the other one.
If Dad doesn't care, I like the one that is losing.
My method took off any pressure I felt to know why I was rooting for a team. I usually wandered off to find something else to do after about twenty minutes. The only other feelings I had about televised sports was when it preempted a show I wanted to watch.
In my later teens, I realized I might have been a success at football if I could have found an instinct somewhere deep inside of me for plowing into someone else. In games we'd play in the vacant lot in my neighborhood, I was hopeless for blocking, but if I got the ball, no one could catch me.
So, Monday night, I went to a baseball game in my city. I live in Gresham, Oregon, which is a suburb of Portland. The baseball team here is the Portland Beavers. It is a minor league team and fighting for its own existence. The facility where it plays, PGA Park, near downtown Portland, is to become the home of the Portland Timbers, a major league soccer team. The Portland Beavers are without a home after the current season. Plans for a new stadium for them were halted when the local government decided the money was better spent on low-income housing. It's hard to argue with that.
When I went to the game, I was thinking about the situation. In fact, I find it really difficult to be interested in a sports event if I can't think about its impact on human beings. I was determined to have a good time. It's all too easy to plan on having a bad time and then having your suspicions confirmed when you really hate being there. So, I was keeping positive.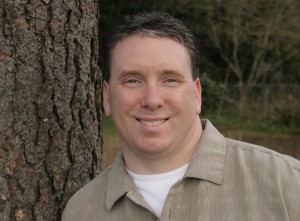 It helped that I was going with my best friend, Drew. He's fun just about anywhere. We had contemplated going to the Portland Trail Blazers game, but one look at the prices and we searched for something we could afford.
We got there pretty early. We were done with dinner and took the light rail downtown. Parking is awful.
While we waited for the game to start, we checked out the concession prices. Ouch! Worse than going to a movie!
Because I use a cane whenever I have a lot of walking to do, we were able to exchange our cramped little seats for something in the ADA row for people with disabilities, where the seats were bigger with more leg room. Our seats had been right down in front, but I would rather have space than be close.
I was surprised at myself how I knew some of the terminology. For example, when the announcer said, "top of the fifth", I knew he meant that it was the fifth inning, and the first team was at bat. I knew "hits", "errors", and what bases were. I wasn't sure about the rules about stealing bases. I didn't know what a batting average represents. Drew was there to help me out with that.
There were other things I didn't understand, not the least of which was why there were so many people. Now, don't misunderstand me. The place was practically empty. I didn't count the ones I could see, but I wouldn't be far off if I said there were less than one-hundred spectators. After sitting through nine innings of rare hits, only one run in the whole game, and almost everyone striking out, it was peculiar to me that people pay to watch it.
I was supposed to be rooting for the Portland Beavers, and for the most part, I was. Yet, the whole game was so devoid of anything happening, that if a member of the Colorado Springs Sky Sox got a hit, I was thrilled. I think the Beavers in the field hoped someone would get a hit too. It must be really boring to stand out there in the field, mitt on hand, and nothing to do. I'm a sucker for lonely men.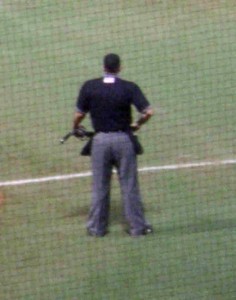 Well, I'm usually a sucker for men in uniform too, but that oddity wasn't working well that night. Other than loving the time with Drew, my favorite part of the game was the home plate umpire. He was deadly attractive. The outing wasn't totally useless.
So this is supposed to be an inspirational web site, and I don't think I've said anything particularly inspirational yet. Well, all is not lost. I think it's OK to be a man who doesn't care that much about sports. There are plenty of things in life far more important than a game of baseball. Dealing with same-sex attraction is just something I do. I don't think I need to man up or anything like that. I'm good just being me and knowing that I am acceptable to God. That's inspiration enough for anyone.