| | |
| --- | --- |
| By | Ad |
Many years ago, before my sons served missions, the ward where we lived had a very dedicated corps of Young Men leaders. I was impressed by their sincerity and their desire to prepare young men, including my sons, to serve missions. Their devotion to their callings was making a favorable impact on many young men.
Around the same time, I had moved from a ward where I had been serving as a Scout leader and had been removed from my position because a general authority saw some things I had written on-line about dealing with same-sex attraction. Despite the fact that I had been faithful to my covenants and had repented of my sexual sins of almost thirty years before, the general authority felt I should not be involved in Scouting and asked my local leaders to release me.
I had a strong sense of family. In fact, it was my desire to be a husband and father that guided my emergence from my homosexual past to embrace the promises of eternal life and a forever family. Though I have never claimed it to be an easy choice, I am realizing that dream.
One important thing for me has always been some family firsts that were meaningful to me. I remember the first time many years before in a different ward seeing my entire family sitting in the baptistry waiting area of the Washington DC Temple. A thunderstorm had knocked out the power, and our entire ward youth program and their escorts waited until the power came back on. The conditions were miserable, but my heart was full of joy at the sight of my wife and all five of our children in that beautiful setting all dressed in white. It was the first and currently the last time we were all together in the temple. One day, I hope to see that sight again. I have faith that I will.
In our current ward, the one with the very strong Young Men's program, I also remember vividly the day that our youngest son, Alex, administered the sacrament after being ordained a priest. My older sons and I were allowed to join him at the table. The four of us stood there and broke the bread together. It was awesome.
So, with this sense of family still strong, there came the long-awaited high adventure trip for the ward's Young Men. As my oldest was shortly to become too old to participate, one of those fine young leaders suggested to the bishop that I be invited to go on the high adventure. I was in no shape to ride a bicycle down the Oregon Coast, but they wanted me to drive an RV and be a rest station in case any boys needed water, snacks, or a break. I loved the idea. To be part of my sons' last high adventure before they would never do it together again had a special significance for me. Part of it was because I loved the symbolism of it, but also because years before when I was removed from Scouting, it was right before my own sons joined the program. I had never gone on a Young Men's campout with them. After devoting ten years of my life camping with other men's sons, I had been prevented from it because of fears about my same-sex attraction.
My bishop wrote a letter to my stake president. Both were in favor of me going, but I said that it wasn't enough. It had
 been an Area President who had told me I couldn't and nothing short of an Area President telling me I could would convince me. So, my stake president wrote to the area president, who responded that a father should not be prevented from having this experience with his sons. I was so happy to go. I even got mentioned in a newspaper.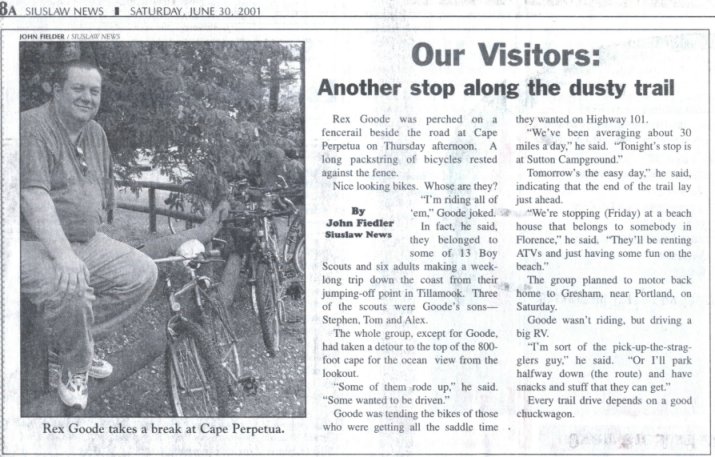 The trip went well. It was wonderful to be with them, even though they were usually riding their bikes along the road and I was parked somewhere ahead. Still, it was a great experience.
It pains me, however, to report that I had some problems with the experience as well. To me, they were going about it all wrong. These well-intentioned adult leaders were missing what I think is a critical element in leading youth. They saw the experience as a result and not as an opportunity. I have long since lost the letter I sent about what I felt were some of the failings of the outing, but I remember the heart of the matter for me.
I always viewed my role as a Scoutmaster as a trainer of boy leaders rather than a leader of boys. While it was true that I had a good relationship with most of the scouts I had in my troop, I felt it was more my duty to make sure that they learned how to lead each other than for me to plan a program for them that I then drove them to implement. I think I largely succeeded, but I also think that I was resisted heavily by others who wanted me to create a merit badge mill and look more at the outcome than the method I employed to get there.
On the trip, the young man who was the designated leader was having some trouble getting cooperation from some of the boys and rightly so. He had not been trained. He'd basically been given a script and an agenda. He was not invested in it, nor did he feel the responsibility he should take for the safety, satisfaction, and enjoyment of the trip for every boy. The youth leaders asked me to talk to him, which I was happy to do. He took it well and promised to try, but I don't think there was any real commitment. I did not consider that to be his fault. He had been set up that way by the zeal of the adult leaders.
I also recall a time long before even the temple trip where one of our daughters was experiencing some problems of which we were unaware. She had been sharing these things with our bishop, but there was no attempt on his part to involve us. Believe me, as a social worker, I understand the need for confidentiality. I did not expect that bishop to break our daughter's confidence, but I would have expected him to encourage her as strongly as possible to bring us in and make us part of the solution.
My wife and I were sealed in the Manti Temple before we had any children. Our children were all born in the covenant. I took that step because I believed in that covenant. If were are faithful, they will be ours for eternity. A bishop is called for what, about five years? During those years, I great responsibility rests on him. I would argue, however, that a greater responsibility rests on me. Congruent with that, I also believe that great access to the Spirit rests on a bishop. I believe that a greater access to the Spirit rests on me as a father where my children are concerned than rests on any one bishop.
On the very day that I found out that our daughter was having problems with her testimony and even her belief in God, I sat her down and had a heart-to-heart talk with her. I reminded her of my own story of doubt and struggle. I bore testimony that God lives and told her again the story of my change of heart. She said that she was not going to ever go to seminary or church again.
The next morning, she was missing. In her room, we found a note. She had gone to seminary. She had spent the night praying and had found her testimony again and her desire to change. For all of the counseling she got in the bishop's office, it took one sincere talk with her dad to make a difference. How I wish that bishops would recognize this!
All of my children are now grown and I'm experiencing the blessings of grand-parenthood. I have a young friend whose children are at the same age now as mine were then. I was astounded to find out that he had been excluded from his sons' high adventure last summer and was also excluded from their recent trip to a winter lodge. The excuse he was given shocked me.
They had taken the program that had been used by the leaders from my ward and were implementing it in their ward. One of the tenets of that program is the value of the Aaronic Priesthood Quorum in a youth's life. While I can't argue with that, I have to remember the lesson of my daughter, the bishop, and me.
An Aaronic Priesthood advisor has a young man for two years. A father has a son for eternity. The responsibility of a Young Men's advisor is great. The responsibility of a father is greater. It saddens me that any temporary influence in a child's life would assume a position of greater importance in that child's life than the child's parent.
Don't get me wrong. I know quite well that someone outside of my family can often influence my children in areas where I may be having difficulty. I always want help. A dad can use all the help he can get. Where it goes wrong is when someone else claims more importance in my child's life than my importance in my child's life. When I was a Scoutmaster, I knew that I was often reaching children where parents were having problems, but that never put me in a more important position.
Don't lecture me about bad parents, either. I've worked with troubled youth in detention and in-patient treatment programs. I know that there are parents out there who maybe should not be parents and who have lost the right to be the primary care-giver for the child. It's a sad and tragic thing.
It's wrong to use such situations as evidence that another can be a better influence than a parent who is trying but needs help. The best thing is to try to teach the parent rather than take over for the parent. Except for where the parent has lost all rights, the parent has the greater responsibility, and I believe, the greater access to divine guidance.