| | |
| --- | --- |
| By | Ad |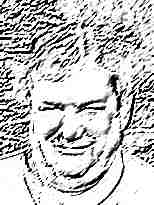 In 1980, while working at a warehouse job, I was out at the dock doing receving. A case of cash register tape was being delivered. The dock was built to accommodate large semis. This package was being delivered by a small delivery type truck.
Usually, we asked the driver to carry it up the stairs, but I was in a hurry so I bent over and asked the driver to hand the package up to me. I wasn't prepared for how heavy it was and felt a twinge of pain in my back as I lifted the package up from below floor level. It was only a small pop, barely noticeable.
I finished my day without much problem and went home. The next morning, when I woke up, I could hardly twist my body to get out of bed. The pain was tremendous and my mobility was almost gone. I managed to get out of bed, get dressed, and off to work.
The more I moved around, the worse my back felt. My supervisor, who was a decidedly suspicion woman, treated me like I was malingering and just trying to get out of work. She called her supervisor who told her to send me to the company nurse. I went to the nurse and was told to call my own doctor.
My doctor saw me and told me I could not go back to work. That began the workers compensation ordeal that really tested my faith and self-image. That is a story for another time.
Since that time, almost thirty years ago, I've struggled with back problems. I had surgery in 1983 that helped considerably. Last year, I was told that I had bone-on-bone arthritis at the old surgery site. After an magnetic resonance image (MRI), I was sent to an orthopedist who told me that surgery would not help this time.
More recently, other joints have begun to hurt, especially my knees and shoulder. I was diagnosed with severe degenerative joint disease, also known as osteoarthritis. I have good days and bad. A couple of years ago, I was diagnosed with gout in my thumbs. Needless to say, but I'll say it anyway–I hurt.
Believe it or not, I didn't write this to talk about my aches and pains. Like many other things in my life, pain just is. Emotional pain is what it is and everyone has some. Spiritual pain is there too. I struggle to make sense of my life on all levels.
As I fight to understand myself and the reasons the Lord has for allowing suffering, I find comfort in the knowledge that God lives and loves me. It doesn't entirely explain suffering, but it helps to bear it.
I am especially comforted and confronted by the words of Paul, whom we assume to be the author of Hebrews:
And ye have forgotten the exhortation which speaketh unto you as unto children, My son, despise not thou the chastening of the Lord, nor faint when thou art rebuked of him:

For whom the Lord loveth he chasteneth, and scourgeth every son whom he receiveth.

If ye endure chastening, God dealeth with you as with sons; for what son is he whom the father chasteneth not?

But if ye be without chastisement, whereof all are partakers, then are ye bastards, and not sons (Hebrews 12:5–8).
I tread on shaky ground with some people when I equate physical pain with the chastening of the Lord. I do not mean to say that God hurts us to teach us a lesson. I do believe, however, that God allows suffering to be part of the human condition and that when I suffer, I have the opportunity to look at my suffering as a curse or a blessing. I choose the latter. Chronic pain of a physical, emotional, or spiritual origin, is evidence of the Lord's desire to mold my character and develop my faith.
My belief about respect is that respect is the trust that one person has in the ability of another to handle difficulty and use it to grow. In that sense, despite the fact that the scriptures say that God is not a respecter of persons, I believe that trials come as a result of the Lord's confidence in our ability to grow from the experience.
There are days when I wish I weren't so beloved a son, but I would gladly endure any pain to know the joy I have known as a son of God and disciple of Christ.
Furthermore we have had fathers of our flesh which corrected us, and we gave them reverence: shall we not much rather be in subjection unto the Father of spirits, and live?

For they verily for a few days chastened us after their own pleasure; but he for our profit, that we might be partakers of his holiness.

Now no chastening for the present seemeth to be joyous, but grievous: nevertheless afterward it yieldeth the peaceable fruit of righteousness unto them which are exercised thereby (Hebrews 12:9–11).
May you come to know the peace and joy of being a beloved child of God. In whatever pain you find yourself, look to Christ and find the joy of divine love. It makes anything bearable.