| | |
| --- | --- |
| By | Ad |
A review of
Donny Osmond's Life Is Just What You Make It
 
Donny Osmond and Patricia Romanowski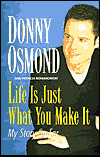 I guess you could say I am from the Osmond generation. Donny Osmond and I are approximately the same age. I remember as a boy hearing my mother say out loud that they were Mormons. Since I came from a family where country western music ruled, my mother didn't know much more about the Osmonds than that.
For me, the Osmonds, especially Donny, was my idea of what families should be like. They certainly were not like what my family was like, and since I spent most of my childhood envying what I didn't had, I wanted to be Donny Osmond.
Of course, I couldn't let anyone else know that. In his autobiography, Life Is Just What You Make It, Donny talks about how there was an era when it was just not "in" to like Donny Osmond. Truth is, even at the height of his popularity, it wasn't "in" where I lived to like the Osmonds.
In an era where traditional values were being questioned everywhere you turned, "digging" a strong family ethic and clean-cut music was something to be avoided, or at least not openly admitted. The funny thing was, and it says a lot about the consciousness of the day, is that despite the stigma of liking Osmond music, they were often topping the charts. While people wouldn't acknowledge they liked them, they would still buy their records.
One of the problems with modern Mormon culture is that we are so interested in showing a good, wholesome image to the world, that we forget to show that we have answers to the more difficult questions of life. Unfortunately, many of us would like to say that we have the answers and it is proved by the fact that those of us who are truly living the gospel have never struggled with anything.
Most of know that it isn't true, but the old Pauline adage, "Avoid all appearance of evil," has been taken to heart in the Mormon culture to the pathological degree, that we would rather cover over problems than admit them.
As icons of Mormonism, one would not expect that the Osmonds would ever break free of the standard view of Mormons they so zealously represented. Yet, in Donny's autobiography, he gives a view of a not-so-perfect childhood and a clearer picture of a life that many of us envied. I know I did.
From the beginning scene, where Donny confronts some youths who taunt him, we see a young man whose life revolved around what others thought of him. Making life's decisions based on the opinions of others, is a tentative way to live. Donny shares with us his feelings about his father, who was portrayed by Donny as a good man, but one who had to have things done exactly right.
One thing I found particularly unnerving was the paternal edict that "Father" was what he would be called, never "Dad" or "Daddy." This was reasoned to be because we wouldn't refer to our Heavenly Father as "Dad" or "Daddy." Proper respect required proper addressing. Nevermind that "thee," "thou", "thy," and "thine" were synonymous with the Germanic familiar forms of the second person pronouns, reserved for close family members. The Mormon custom of using these familiar pronouns when addressing diety instead of the more formal (and exclusively used in modern English), "you," "your", and "yours," tends to show us as people who believe in a God that is more like a Daddy than a Father.
Father Osmond was a strong personality, to read Donny's version. I was also taken aback when I read that Donny was spanked for writing a letter home to Mother expressing his feelings of being road weary. "Father" considered such whining to be inconsiderate of the feelings of the other brothers who were working so hard.
It took a bit of reading to settle into such candid views into the cleanest and squeakiest family ever to hit modern celebrity. The reading was a bit fast, and perhaps unpolished. Somehow, I appreciate that in an autobiography of anyone but a writer by trade. One does not like to get the sense that someone else really wrote it.
One of the most valuable gifts this book gives is Donny's account of his battle with social phobia, including panic attacks that struck while he was performing in Andrew Lloyd Weber's, "Joseph and the Amazing Technicolor Dream Coat." For someone like Donny Osmond, who makes being on the stage look like the easiest thing in the world, you would hardly expect that he suffered from sort of a stage fright to the nth degree.
His forthrightness in discussing it openly is a tribute to the courage we see all of the time in people who have faced difficult problems. In the book, Donny makes a connection between his father's perfectionism and interest in how people viewed him with Donny's struggle against fear. Not surprisingly, reviews of the book coming out of Mormon country, tend to blame the social phobia problems on shaken confidence following Donny's first failed attempt at a Broadway show. Even though Donny Osmond claims to have been honest in his book at the urging of his ever-supportive parents, some commentators can't seem to help but resist the temptation to cleanse the story in their reviews.
One of the main lessons for me is that fathers are not perfect. I will long remember Donny's recollection of how tenderly and lovingly his father cared for him whenever he fell ill. Despite some of his father's shortcomings, family love survives, as it does for everyone who is honest and forthright.