| | |
| --- | --- |
| By | Ad |
A review of
Blaine M. Yorgason's Hearts Afire, "Book One – At All Hazards"
by Stephen Rex Goode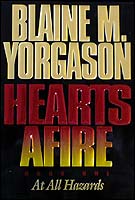 This novel by Blaine M. Yorgason is an adult novel for and about Mormons, though I felt that it would read well to a non-Mormon audience with an open mind.
It takes place in late nineteenth century Utah and is a semi-fictitious chronicle of a mission to settle the San Juan River region of southeastern Utah.
The story centers around two fictitious members of a real expedition in the winter of 1879-1880, Billy and Eliza Foreman. Billy begins the story as an older single man, secretary to President Brigham Young. Billy is bookish and not an outdoorsman by any stretch, having grown up in clerical circles. He has no clue how to hitch a team or ride a horse, yet we soon learn he is a man of great faith and fortitude.
Somewhere between the prologue and the beginning of the main story, he marries Eliza, a fortyish English survivor of the Martin Handcart company.
Eliza is partially crippled due to the loss of part of her feet to frostbite. She uses a crutch to walk, mainly for balance.
After her arrival in Utah, Eliza spent over twenty years as a businesswoman running her own millinery shop. She is a woman of great independence and spirit, but is highly intolerant of her husband's shortcomings.
When he announces that he has volunteered for the San Juan Mission, she is livid and critical of Billy's inability to measure up as a frontiersman.
Somehow he talks her into making the trek, though it is approaching winter and Eliza has not forgotten the hardships she faced in Wyoming so many years before. Her feet are prone to great pain when confronted with cold, yet by the same spirit she knew the Church was true when she joined in England and which prompted her to make the trip across the plains and even to marry the myopic Billy, she agrees to accept the mission call.
Along the trek, while others eat like true campers, Eliza forces her husband to unload her table and chairs from the wagon, which she sets with a nice tablecloth and fine china. She makes no attempt to hide her contempt for her husband's pioneering defects and begins to alienate the entire camp of about sixty families.
There is a fair amount of gossip among the missionaries regarding this strange couple, fueled largely by Eliza's open criticism of her husband. She is despised by most of the women for her uppity English ways.
Over the trek, many things change as hardships and hazards are faced. Yorgason treats us to a vision of how sacrifice and affliction can sanctify people, which we see in the whole company, but more personally in Eliza's gradual change of heart.
Such a grand tale hardly fits in the 600+ pages of this novel, and I found the story to speed along at a dizzying pace. There were many characters to track. Interwoven in the story of the trek from Escalante to the San Juan, we are also given a taste what kinds of people the missionaries may expect to find when they arrive.
There is Sugar Bob Hazelton, whom Yorgason identifies in his Author's Notes as a composite of several shadowy characters that he found in his research. Sugar Bob Hazelton is a conscienceless outlaw and murderer whose story begins early in the book but then drops out for the main body of the story, only to reappear near the end.
Other than these three characters, the Foremans and Sugar Bob, all other characters are people who actually existed. That in itself is an impressive claim, because there were many more characters than I could keep track of.
Notably there was a young Pahute named Posey; Peokon, the Navajo who murdered George A. Smith; a tall Navajo named Frank; some non-Mormon settlers; and a host of faithful and wonderful pioneers.
I could see Yorgason's dilemma in trying to keep this novel interesting while fitting the epic journey into 600+ pages and still do justice to the hordes of characters. I found myself doing my best to keep everyone straight while I devoured the main plot. Most difficult of all was remembering the various Navajos, Pahutes, and non-Mormon whites that speckled the sections that focused on the existing inhabitants of the region.
Despite his need to hurry through the story and be brief, Yorgason always took his time with Eliza. He also did an excellent job with the characterizations of the others. I was able to remember them more by who they were than their names.
The book is full of colorful characters who used even more colorful languages. The rustic and quaint similes were an amusing diversion, and seemed quite authentic. Yorgason, in the annotated bibliography at the end, credits many books, some of which may have aided him in developing the more colorful characters through thick use of metaphors and similes.
Pap Redd is one of the main examples in the story of pioneer linguistic color.
Reaching down Pap took up one of the small cheeses. 'The way I see it,' he frowned, changing not only the subject but also his very way of talking, 'this auction's got about as much chance of raising good money as a one-legged man in a kicking contest. Moreover, about the time the bids stop coming and I'm being stared at like an albino badger with two heads and a sweet disposition, you can have your job back. Now, which one of you anvil-headed so-and-sos will start the bidding for this cheese?' (p. 408)
In those sections portraying Navajos and Pahutes, Yorgason throws in what at first appear to be some annoying references to Indian words and phrases.
I later learned to be grateful for them. I didn't really learn any Navajo, but the inclusion of these thought interruptions added some authenticity to the characterizations, as in:
Natanii ne'e'z
Below him and across the big river the canvas tops of the Mormon wagons were just becoming visible, though scattered across the flat as they now were, he knew that many remained hidden by the ti'is, the cottonwoods. (p. 605)
Yorgason also employed a device I first became familiar with in his novel, Secrets, about the realities of abuse in Mormon families. He made use of his characters to do some preaching, this time about sanctification and repentance, by making us an audience to their scripture study and discussions. It works well and I found myself thinking seriously about the things Eliza learned from Billy's exhortations from the scriptures.
This spiritual journey for Eliza begins after Billy tells her that he is going to go on the mission to the San Juan River, but has told her that he would release her from any obligation to go with him. At this point in the story, Eliza thoroughly despises her husband and is happy to take him up on this release and the accompanying promise to return her to Salt Lake City. However, in their nightly scripture study, she learns something she doesn't want to know, from the twelfth chapter of Second Corinthians:
As the now terrifying feeling of heavenly fire continued to course through her trembling body, Eliza looked at her husband–at the messenger of Satan who had been sent to buffet her. And with a shudder of fear and terror she did her best to nod.
"Verse eight and continuing." Billy smiled. "'For this thing I besought the Lord thrice, that it might depart from me. And he said unto me, My grace is sufficient for thee: for my strength is made perfect in weakness. Most gladly therefore will I rather glory in my infirmities, in reproaches, in necessities, in persecutions, in distresses for Christ's sake: for when I am weak, then am I strong.'"
"That's enough," Eliza whispered. "What…what do you think it means, Billy?"
Finally aware that something was profoundly affecting his wife, Billy quickly reread the verses. "Lawsy, Eliza," he said when he'd finished, "it seems pretty straightforward. Paul was troubled by something he didn't want to suffer. But when he sought the Lord to remove it, the Lord told him that his strength was made perfect in weakness and that he would be keeping his 'thorn.'
"And then, if you remember, Paul went on to have a hard life. Back in chapter eleven of this same epistle…let's see. Here, beginning at the twenty-third verse and continuing through the twenty-seventh, Paul writes, 'Are they ministers of Christ? (I speak as a fool) I am more; in labours more abundant, in stripes above measure, in prisons more frequent, in deaths oft. Of the Jews five times received I forty stripes save one. Thrice was I beaten with rods, once was I stoned, thrice I suffered shipwreck, a night and a day I have been in the deep; in journeyings often, in perils in waters, in perils of robbers, in perils by mine own countrymen, in perils by the heathen, in perils in the wilderness, in perils in the sea, in perils among false brethren; in weariness and painfulness, in watchings often, in hunger and thirst, in fastings often, in cold and nakedness.'
"Eliza, darling, are you all right?"
Hardly daring to speak, Eliza merely nodded. She was not all right, not in the least. The prayers she had offered for relief from her marriage to Billy had just been answered, but not in the way she had either hoped for or expected. Nevertheless, the answer was clear, and she knew it had come directly from God and was not of her own manufacture.
Like Paul, she had been given a messenger from Satan, a thorn in the flesh, a burden she would have to carry throughout her life. She remembered once reading these same verses and feeling confident that her thorn was her nonbelieving family. A year later she had seen beyond that and concluded it was her crippled feet. But now she knew how shortsighted such ideas had been. Compared to the burden of being married to Billy, and feeling as how she did about him and his church, such thorns were in reality nothing. Like Paul, she seemed to be moving from one trial to another, each more difficult, each more demanding. But like the ancient apostle, she would surely be strengthened through endurance. (pp. 50-51)
Eliza's contempt for her husband takes the form of internal criticism of her perception of him as lacking in masculinity. Because of growing up with same-sex attraction feelings, this facet of the story was the most compelling for me, since I, like Billy Foreman, often questioned my own masculinity. I, like Billy, was no good at the basic things ascribed to manliness in my day and age: sports, car identification, and home repair.
Of course, if Mary were asked, she'd be quick to say that a tiny bit of the ease of Billy and Eliza's traveling was because Billy was actually starting to learn a bit about pioneering. What Mary didn't know, unfortunately, was that even though of a morning Eliza fed the chickens, milked the cow, and baited the glass-eyed mare and roped her to the wagon, it still took Billy longer than that to harness and hitch the mules. And every morning so far or another of the men had "happened" to drop by just in time to help. It was all so humiliating to Eliza, who felt even more humiliated because Billy accepted their help eagerly, warmly, as though he were a child and not a man.
On the other hand, last night her husband had managed to properly hang the harness out on the rear of the wagon, and this morning Hansen Bayless, a young man from Paragonah who'd joined the company back in Little Creek Canyon, had praised him mightily for his layout. So he was learning, Eliza admitted candidly, and might someday pass for something less than a total fool.
Trouble was, Eliza also admitted candidly, her own plan to make Billy feel loved and to make the others in the company see that she loved him wasn't exactly working out. Oh, it had worked pretty well for a few days. Very well, as a matter of fact, for as long as they'd remained in Cedar. But now that they were on the road, Billy's foolishness and ineptness were bothering her more and more, and her mental criticisms were once again making their way into her vocabulary.
Of course, perhaps it was better that she was being honest– (p. 123)
The descriptions of the privations and afflictions on the journey tore at my heart as I realized how true and real that kind of suffering and faithfulness is. These pioneer missionaries sacrificed for their faith and offered much on the altar as they struggled. My feet ached with Eliza's and my hands were in agony as Billy worked alongside the others to build an impossible inroad into the wilderness. I feared for them as I read the stories of the characters they would face when they arrived at their destination, even though they were unaware.
Much like Billy and Eliza Foreman and all of their pioneer company, all disciples of Jesus Christ are called upon to offer their lives on the altars of the Lord. Our struggles are not the same as theirs were, but to anyone who has fought the battles against same-sex attraction, the hardships of the dusty trail are strangely familiar.
This work is beautifully written and inspiring. Throughout, I saw an allegory of life that is impressive in its applicability to modern day and particularly to my own struggles as I forge ahead in my own wilderness, heeding my own call from the Lord.
Yorgason promises a Book Two, "Fort on the Firing Line." I'm looking forward to it.
, the tall Navajo who now carried the belacani name of Frank, sat his horse in the gray gloom of dawn staring down off the bluff.